I know what most people are thinking. It's way too cold to go to northern Canada to see Aurora Borealis.
While the temperature in Yellowknife can dip faster than a strawberry diving into chocolate fondue, there's a bundle of ways to either circumvent the cold entirely or prepare for it, so you can enjoy the magic of the north without being distracted by the deterring thought of a numb fingertip.
If you cannot even stand the mention or thought of icy, winter-like conditions, you'll want to bypass the cold entirely, which, contrary to general knowledge, is possible when viewing the Northern Lights in Yellowknife.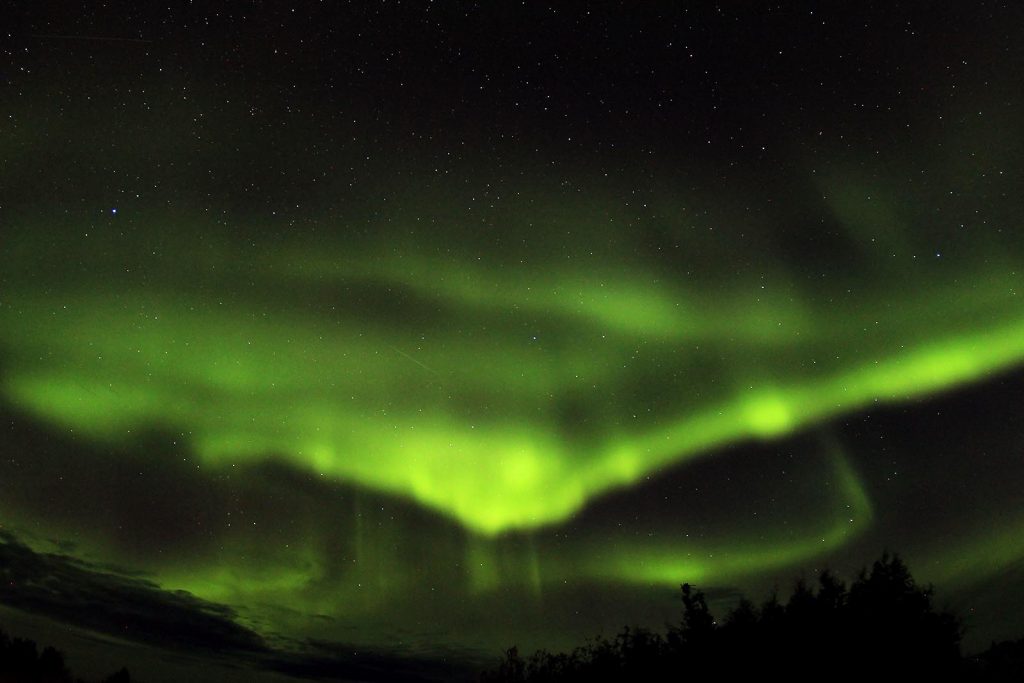 Because of Yellowknife's ideal climatic conditions, the season to see Aurora Borealis is longer than other prominent locations. You can see the Northern Lights from mid-August until mid-April and Yellowknife Tours offers package adventures, aside for six-week hiatus from Oct. 15 – Nov. 29, for the entire season.
IF YOU'RE "ALLERGIC" TO THE COLD, VISIT YELLOWKNIFE IN APRIL OR AUGUST
So if you're "allergic" to extreme cold, mid-April and mid-August provides the perfect time for you to make your way to Yellowknife. April is still somewhat chilly, with average daily temperatures ranging from -10°C to 1°C, but those conditions are significantly warmer than the bitterly cold conditions in January.
If anything below 0°C deters you, August offers nicer conditions still, with daily temperatures in the city's second warmest month ranging from 11°C to 18°C.
For warm weather aficionados, August in Yellowknife is the closest thing you'll get to a balmy Northern Lights getaway. Not only are you guaranteed a 98 percent chance, if you stay for three or more days, of seeing the Northern Lights in Yellowknife, you'll also enjoy gazing at the visual spectacle in the mild, temperate conditions August provides.
PREPARE FOR THE COLD AND EMBRACE IT
There is another way. And that's to embrace the cold, making it a quintessentially Canadian visit you'll never forget. You won't forget your adventure in Yellowknife no matter what time of year you decide to visit, but there's something notably special about seeing the Northern Lights on a dark, cold, crystal clear winter's night.
And yes, you can actually enjoy your experience when the mercury dips below -30°C, a common low temperature during the coldest, darkest of Yellowknife's winter months.
Like most things in life, preparation is absolutely vital. With Yellowknife Tours' help, you'll be dressed in gear designed for the coldest temperatures on Earth, so you can let loose and enjoy the activities and natural phenomena that convinced you to visit Yellowknife.
For $30 a day, Yellowknife Tours will fully kit you in top-of-the-line winter gear designed to combat temperatures of -30°C and lower. So fear not, as Canada Goose Arctic Parkas — developed for scientists working in the Antarctica — Sorel insulated winter boots, tried and tested mittens, neck warmers, toques and snow pants will ensure you're prepared for whatever conditions you come across.
With that perceived impediment out of the way, Yellowknife Tours is ready for you, waiting with open arms and a cozy, duck-down winter jacket.