Welcome to Trout Rock Wilderness Lodge on Great Slave Lake!
Trout Rock Island is located in the pristine North Arm of Great Slave Lake and is only a 12 minute float plane ride from Yellowknife. That means you will most likely fly in to the lodge the same day you leave home and avoid the hassle of staying at a hotel upon arrival in Yellowknife. Remember this is the "land of the midnight sun".
Trout Rock Lodge consists of a new main lodge for dining/meetings equipped with telephone, fully licensed lounge, flush toilets, fireplace and a fantastic view overlooking Great Slave Lake. Our guest cabins sleep up to 4 people each and are equipped with furnace, power and running water. There is also a shower house and wood stove operated hot tub on the premises.
After supper you may want to hike around the island, go canoeing or shoot a few clay pigeons.
Trout Rock Lodge is picked as the number one of fishing destinations in the world!
---
Trout Rock Lodge under Enodah Wilderness Travel has catered to anglers from all over the world for more than two decades. Their mission is plain and simple; to offer the most incredible northern pike fishing in the world. That's why anglers come to Great Slave Lake with very high expectations and they never leave disappointed. Monster Pike are everywhere! Hooking 60 northerns a day in the month of June is practically automatic; 40 will be over 36", and 10 will be over 40" with two pushing the 50" trophy line.
The pike fishing here is truly amazing in every way. The lodge location in an archipelago formed by thousands of islands which protects some of the most expansive northern pike habitat on earth.There is an abundance of bait fish, no fishing pressure, great catch and release policies which were established by host Henry Waszczuk on his first visit over 20 years ago. The northerns here indeed have a perfect habitat, thousands of unexplored islands and shallow weedy bays, and a world famous lake that is 300 miles long.
---
That's Great Slave Lake, and Trout Rock has captured this incredible fishing mecca as the best of the best! The pike hot spots are very close to the lodge, so there's no time wasted traveling to the fishing grounds. In fact, there are two incredible phenomenons here, don't be surprised to hook a northern in the mid 30" class and have another northern nail it on the way to the boat.
Another frequent sight while retrieving your line is to see two to three fish chasing your lure to the boat. This is also the perfect place to have fun with a fly rod, whether you cast a top water fly or a streamer, these northerns are very aggressive and will make your fly fishing experience a memorable one. Trout Rock Lodge offers great accommodations in either the main lodge or cabins with hearty home cooked meals.
The main lodge features satellite telephone and wireless internet service, fully licensed lounge and a fireplace. Trout Rock Lodge employs professional guides from all over Canada. They are masters at preparing a northern Canadian shore lunch of filets from the morning's catch with all the fixings.
Hank's top fishing destinations in the world, "Fins+ Skins" 2015 Anniversary Edition, page 15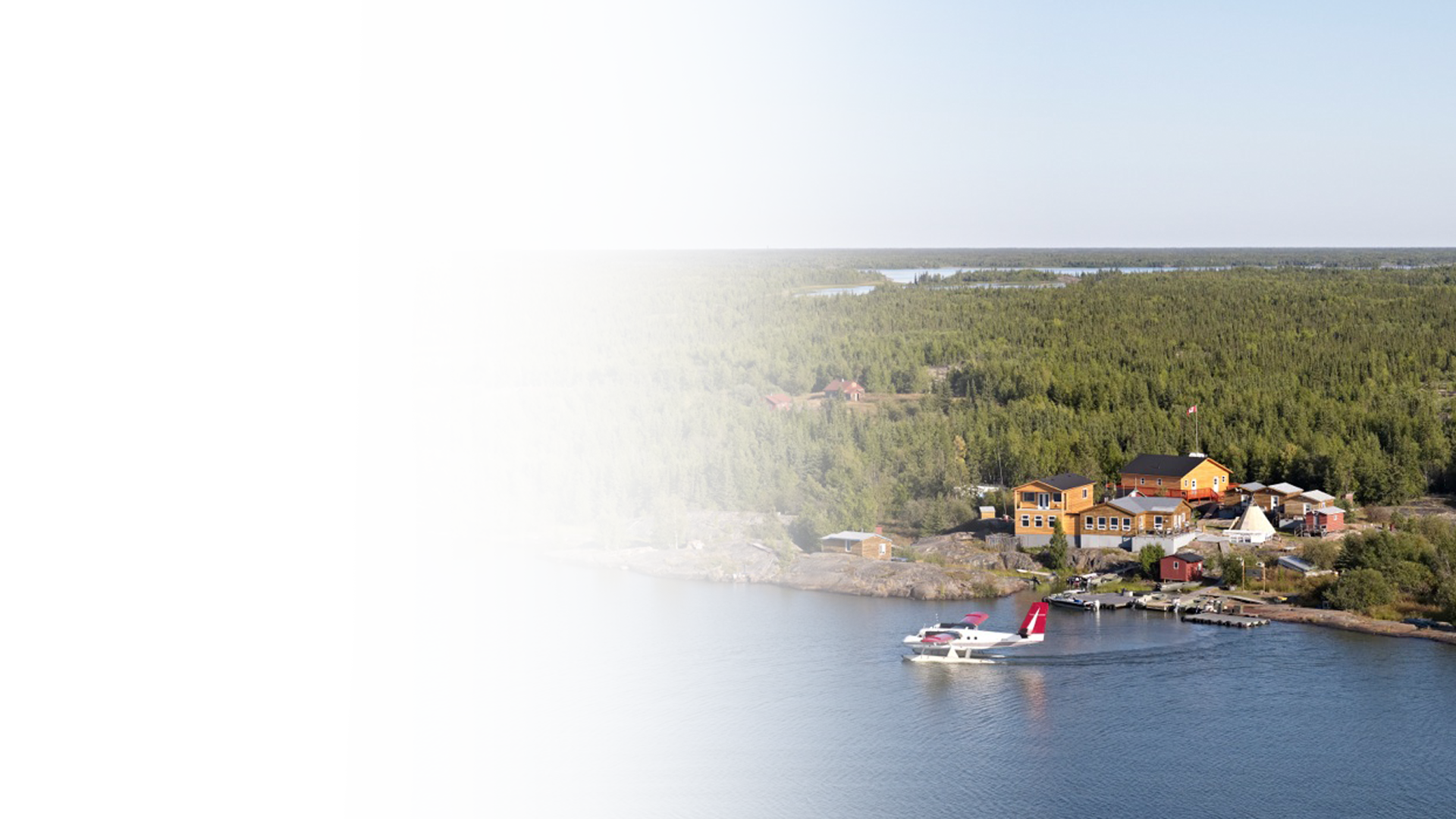 Note:
---
1. Our minimum requirement are two persons. All rooms and cabins at the lodge are 4 beds. If 2 guests want to stay at the room exclusively, a surcharge of $75 + 5% GST per person per day will apply. Winter season lodge departure from Yellowknife is every Tuesday and Friday at 5:00pm.
2. There is no running water in winter season due to permafrost in wilderness location. Pacto toilet are in each room but not cabins, cabin guest has to use pacto at the main lodge.
The government of Northwest Territories requires every angler to have a valid fishing license. Fishing license can be purchased at the lodge. For more info, see Fishing Regulations Guide.
For more information on the Arctic Tracks Machine, see Hagglund on Arctic Tracks.
To get more info, please contact aurora@yellowknifetours.com