Welcome to Trout Rock Wilderness Lodge on Great Slave Lake!
The serene Trout Rock Lodge is a remote getaway 45 kms from Yellowknife. If you're looking for a remote, peaceful and exclusive retreat, Trout Rock Island, located in the pristine north arm of Great Slave Lake, is the perfect retreat. Just 12 minutes via floatplane from Yellowknife, the destination is so close you'll likely fly in the same day you arrive. It is the land of the midnight sun, promising extended hours of adventure.
Trout Rock Lodge's new main lodge for dining and meetings is the centrepiece of the accommodation and has a fully licensed lounge, flush toilets, a fireplace and an epic view overlooking Great Slave Lake. The guest cabins sleep up to 4 people and are equipped with a furnace, power and running water. There is also a shower house and wood-stove operated hot tub on the premises.
There's nothing quite like capping off your day by going for a hike, venturing to the water for an after-dinner canoe or shooting a clay pigeons out of the clear northern sky.
Trout Rock Lodge is rated as the #1 pike fishing destination in the world!
---
Enodah Wilderness Travel's Trout Rock Lodge has catered to anglers from across the globe for more than 20 years. They unerringly and consistently achieve their goal of being the world's premier northern pike fishing spot. Anglers with sky-high expectations flock to Great Slave Lake and, thanks to the locale's abundant monster pike population, never leave disappointed. Seeing 60 caught per day in June is almost guaranteed, with 40 over 36", 10 eclipsing 40" and two pushing the 50" trophy line.
An unparalleled pike fishing experience is almost guaranteed at the Trout Rock Lodge. Its location, amidst an archipelago formed by thousands of islands, protects one of the most expansive northern pike habitats. There is an abundance of bait fish and sound catch and release policies, established by host Henry Waszczuk on his first visit over 20 years ago, and a refreshing absence of fishing pressure. The pike's ideal habitat consists of thousands of unexplored islands and shallow weedy bays, along with a world-famous lake that stretches for 300 miles.
---
Great Slave Lake is home to one of the world's best pike fishing destinations. With pike hot spots in close proximity to the lodge, you'll maximize your time on the water. Don't be surprised when you hook a northern pike in the mid-30" range, while snagging another on the way back to the boat.
While retrieving your line, it's commonplace to see two or three fish chasing your lure to the boat. It's also the perfect place to get creative with the fly rod. These northern pike are aggressive and feverish, so whether you cast a top water fly or a streamer, you'll leave with unforgettable memories. Trout Rock Lodge offers superb, comfortable and homely accommodation – which includes hearty home cooked meals – in either the main lodge or surrounding cabins.
The main lodge features a fully licensed lounge and fireplace, satellite telephones and wireless internet service. Trout Rock Lodge employs professional guides from all over Canada, who are masters at preparing filets from the morning's catch in a quintessentially northern Canadian shore lunch.
Hank's top fishing destinations in the world, "Fins+ Skins" 2015 Anniversary Edition, page 15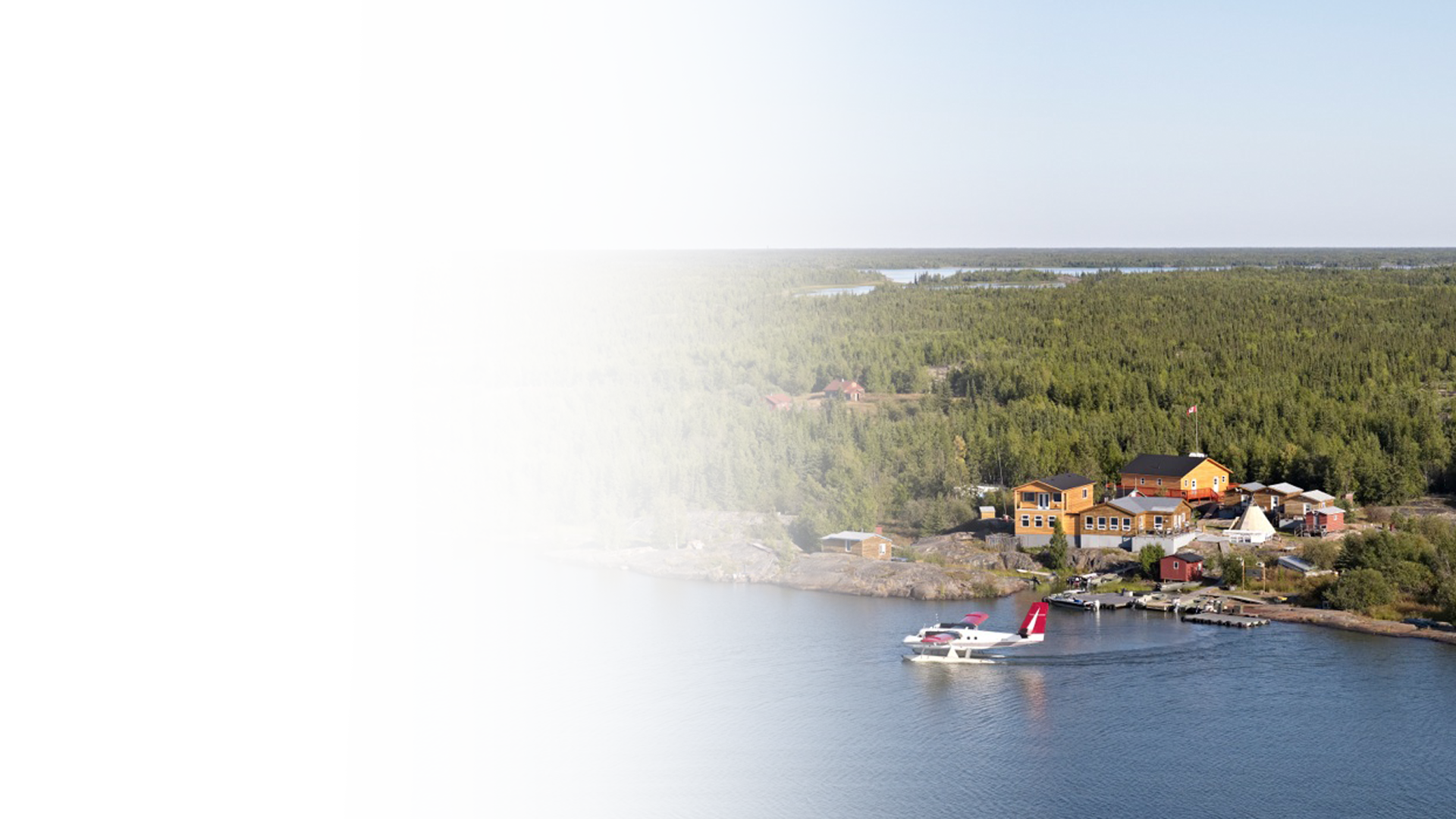 Note:
---
1. We have a two-person minimum for bookings. All rooms and cabins at the lodge are fitted with 4 beds. A surcharge of $75 + 5% GST is charged per person per day will apply If 2 guests want to stay at the room exclusively. Departures from Yellowknife during the winter season occur every Tuesday and Friday at 5:00pm.
2. Due to permafrost, there is no running water during the winter season. Pacto toilets are fitted in each room but not the cabins. Cabin guests must use the pacto toilets at the main lodge.
The government of Northwest Territories requires every angler to have a valid fishing license. Fishing licenses can be purchased at the lodge. For more info, see Fishing Regulations Guide.
For more information on the Arctic Tracks Machine, see Hagglund on Arctic Tracks.
To get more info, please contact [email protected]