While there are countless ways to experience the Northern Lights, none measure up to the thrill of looking up and beholding nature's most wondrous light show from the comfort of your own cabin porch in the middle of the Canadian wilderness.
Yellowknife Tours offers a unique way see the Northern Lights that will appeal to some while dissuading others. It's a true bucket list travel experience, one that nestles nicely into the once-in-a-lifetime category. It's equal parts rugged, enchanting and experiential, and it always exceeds even the loftiest expectations.
Tucked away on the bank of the Great Slave Lake about 45 minutes from Yellowknife, Trout Rock Lodge is an isolated cabin smack dab in the heart of northern Canada's wilderness, providing a serene, peaceful and refreshingly unfamiliar raw encounter with nature.
It also facilitates the most awe-inspiring, convenient and enchanting way to see, even hang out with the Northern Lights.
WHY TROUT ROCK LODGE IS A NORTHERN LIGHTS EXPERIENCE THAT CANNOT BE REPLICATED
Let's first talk about the aspect of this retreat that might deter some would-be Northern Lights revellers. There is no running water at Enodah Wilderness Travel's Trout Rock Lodge, so if it feels like you cannot live without a hot shower for up to three days, this Northern Lights trip is not for you.
You'll be better off choosing one of the Explore Yellowknife Tour packages. Replete with modern amenities, including four-star hotels and all the hot water you desire, those Yellowknife city Northern Lights tours don't lack any modern comforts.
But before you totally disband the cabin idea, hear me out. Regardless of which Trout Rock Lodge package you select, you'll only be without running water for a maximum of three days. And a fresh basin of water is provided, so you can still bathe and wash while you're there.
Trout Rock Lodge, The Shangri-La Of Remote Cabins
The cabins are fully fitted with heating, ensuring a warm and cozy night's sleep.
Now that the potentially polarizing and dissuading lack-of-running-water topic is off my chest, I can get to the reasons you should forgo your perceived need for hot water and take the plunge.
If you need something to visualize, think of Trout Rock Lodge as the Shangri-La of remote, wilderness cabins. If it's possible, Trout Rock Lodge makes it happen. The main lodge features a fully licensed lounge and fireplace, satellite telephones and wireless internet service.
You can also relax in the hot tub, located on the shoreline of Great Slave Lake, after a day chockfull of adventure and activity. While it's not a conventional hot tub fitted with powerful jets and all the modern fixings, this hot tub, heated by wood stove, is just as relaxing and has the benefit of unrivalled scenic views from every vantage point.
Hang Out With The Northern Lights On Your Front Porch
Maybe you've already seen the Northern Lights. Maybe you've been lucky enough to see its magisterial beauty numerous times, and maybe, just maybe, you've never before had the pleasure.
Even if you've seen the Northern Lights dozens of times, it's unlikely you've ever been able to actually hang out with nature's version of Cirque du Soleil. One of the best things about staying at Trout Rock Lodge is being able to walk onto your front porch in the middle of the night, soothing tea or warming whisky in hand, look up and have a front and centre, unimpeded view of the Northern Lights.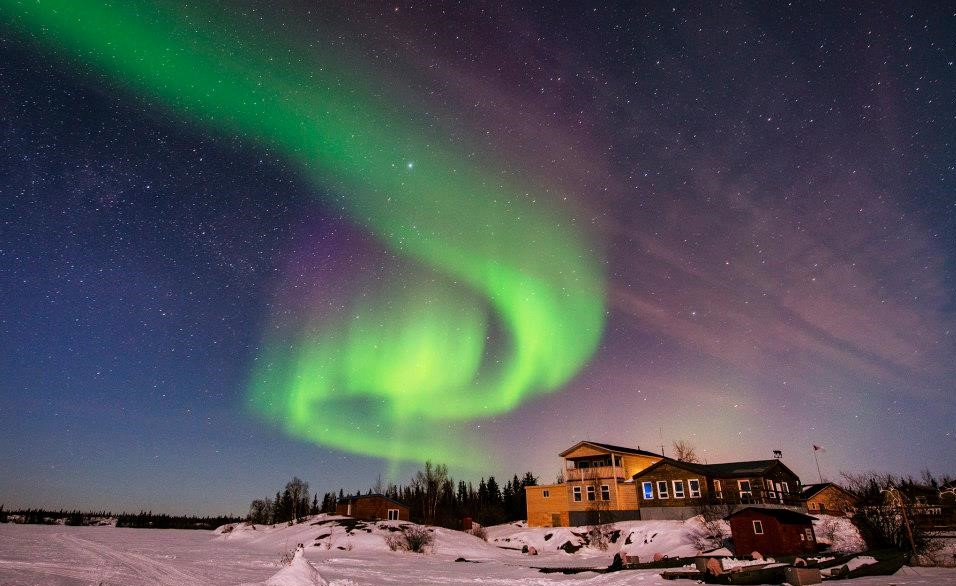 Sometimes, if Mother Nature is feeling generous, you can spend hours hanging out with the natural wonder that can seem so elusive. The most satisfying hot shower in the world doesn't hold a candle to unending VIP access to the world's most in-demand visual spectacle.
The secluded location also guarantees complete solace and privacy and, of course, the complete absence of light pollution, enhancing further your Northern Lights' experience.
Experiential Commute To Trout Rock Lodge
If you decide on the autumn cabin retreat, you'll be transported on a floatplane overhead Great Slave Lake, a 12-minute flight that offers spectacular bird's eye and stunning panoramic views of the expansive body of water and surrounding wilderness. Landing on Great Slave Lake, the floatplane settles just steps away from your temporary home, nestled right in the middle of untouched wilderness.
If you prefer a winter retreat, a Swedish-style military tank transports you 45 minutes across Great Slave Lake's frozen tundra. Rumbling atop such a vast frozen body of water in a vehicle you've probably never seen let alone travelled in is an unforgettable way to reach your final destination.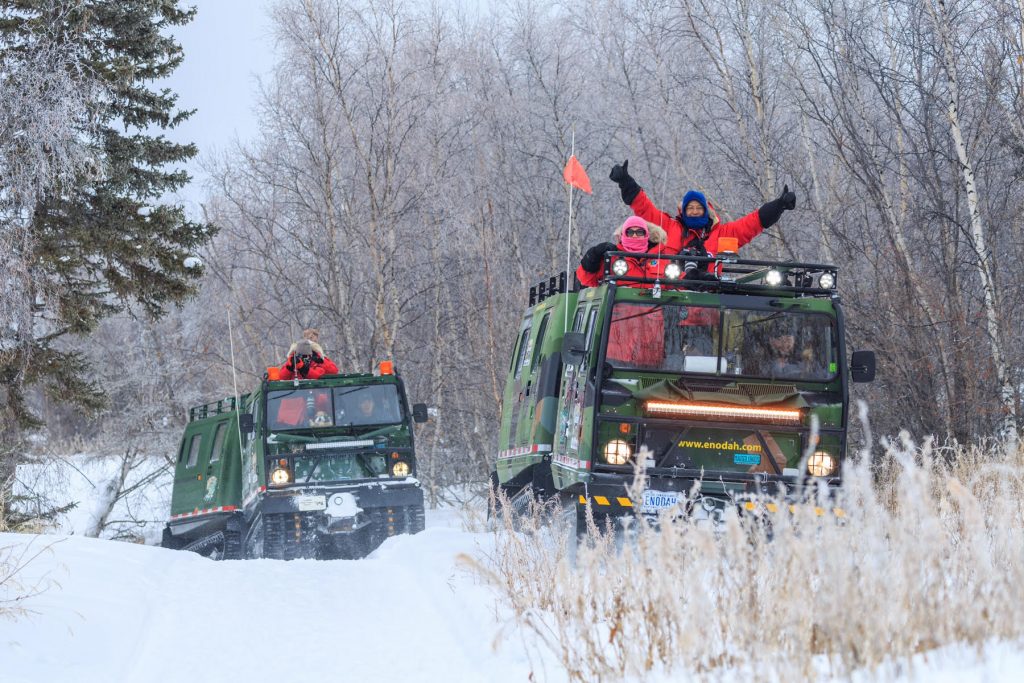 Trout Rock Lodge Activities
As part of your almost all-inclusive package, daily activities are included. Snowmobiling, ice fishing, snowshoeing are just a few of the winter activities you'll enjoy atop the frozen tundra of Great Slave Lake and in the surrounding Boreal Forest.
Hiking, exploring and fishing headline activities for those more partial to the autumn Trout Rock Lodge package.
Regardless of which season you land on, you'll have three nights to settle in and make the most of your VIP access to the Northern Lights. And because you're staying at the secluded cabin for three nights, you'll have a 98 percent chance of seeing Aurora Borealis.
So, after hearing me out, are you game?