While the reason most people go to Yellowknife is to see the Northern Lights, dogsledding through the Boreal Forest offers a complementary experience, amplifying the showcase attraction.
Like a number of memorable winter activities, dogsledding was for centuries a means for people to get around more efficiently.
Originally developed by northern Indigenous people, European settlers and trappers adopted dogsledding and utilized it to transport goods across snow-laden northern terrain.
Now it's more widely known as a way to celebrate malamutes, Siberian and Alaskan huskies in an exhilarating and adventurous way.
Enodah Kennel has been picking up rapid momentum since 2015, not unlike the Alaskan huskies that whip the sled across the frozen tundra. The kennel prides itself on offering the best-in-industry dogsled tours while always prioritizing the dog's wellbeing.
DOGSLEDDING PROVIDES DOGS WITH A PURPOSE
Some people assume that dogsledding is an unfair, even inhumane practice. If managed and operated properly, with diligence and due care, the polar opposite is true. Each breed of dog renowned for their dogsledding expertise not only desires a daily purpose, but requires it. Strong Alaskan huskies, like humans, need something to keep their minds and bodies active. It's essential for a happy, healthy husky.
Dogsledding is their muse, providing immeasurable benefits. If they didn't have dogsledding, they'd have an increased chance of becoming restless, distracted, even destructive.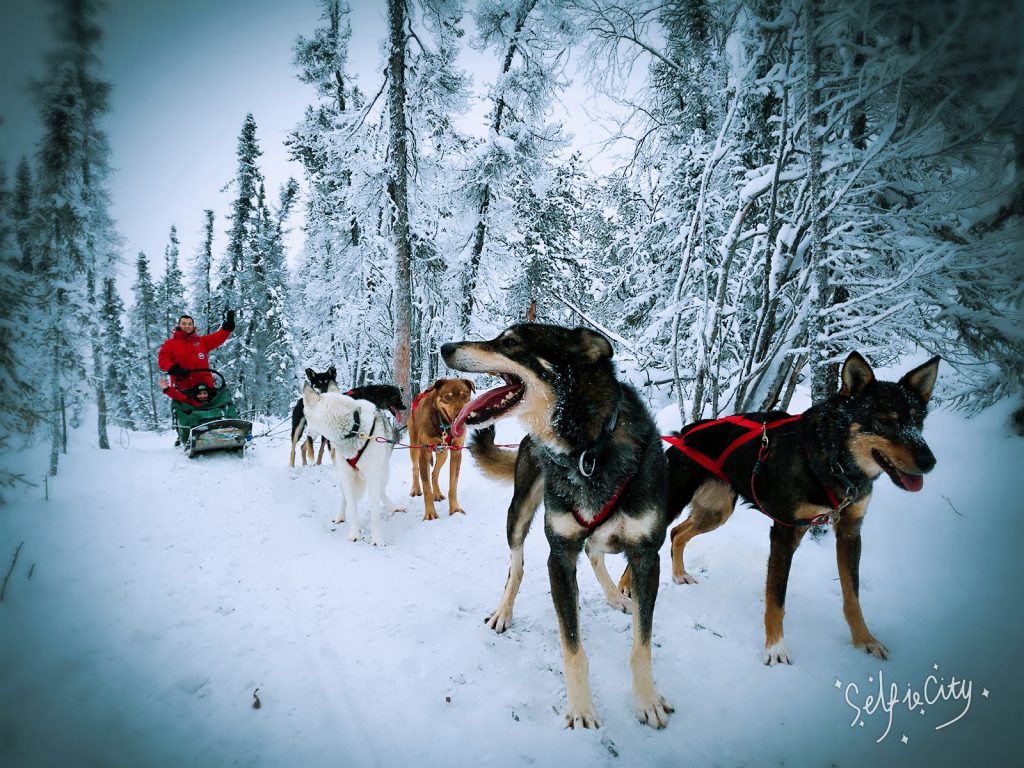 Once you see the dogs pull a sled through the Boreal Forest in harmony and with untold camaraderie, you'll understand. This isn't purely work for the participating Alaskan huskies. It's a way of life, the best way to bond with their fellow Balto's. Every dog has a part to play, working in unison and as a collective, like an Olympics' Eights rowing team.
There's nothing bitter about this sweet symphony.
DOGSLEDDING, AN ACTIVITY THAT DOESN'T EVEN PLAY SECOND FIDDLE TO AURORA BOREALIS
The Northern Lights is awesome, unrivalled some who've experienced it will say. And it's unquestionably the reason most people venture to Yellowknife. But it's not the only reason, at least it won't be once you realize how unforgettably rewarding dogsledding is.
Included in all of Yellowknife Tours' winter packages, dogsledding at Enodah Kennel offers so much more than a thrilling ride through the Boreal Forest. It offers insight to a way of life, the chance to see Alaskan huskies thrive in their element and the unique opportunity to drive your very own dog team atop the frozen tundra of one of the world's most pristine landscapes.
No, you're not seeing things. You are the musher, the captain, the driver, the pilot. Don't worry, Enodah Kennel provides all the knowledge and you'll need to ensure a safe and rewarding dogsledding journey.
If you've never tried dogsledding, our strong recommendation is that you give it a go at least once. And if you're going to try it out, there's no better first than to your drive your very own team of Alaskan huskies.
If that doesn't set you up perfectly for a night with the Northern Lights, I'm not sure what does. You'll be buzzing from your dogsledding experience, so naturally high that a sighting of the Northern Lights will be a mere bonus, the icing on top of a perfectly designed frozen cake.